International Education Week 2020
International Education Week 2021
International Education Week (IEW) is an initiative of the U.S. Department of State and U.S. Department of Education to promote international understanding and build support for international educational exchange.

International Education Week is celebrated at UCCS to share the richness of cultures and to expose the UCCS community to diverse perspectives and a variety of global issues. International Education Week provides exposure to cross-cultural activities, global environmental issues, social and political concerns and is celebrated at UCCS through presentations, music, art, films, food, discussions, displays and exhibitions.
For more information, please contact International Affairs at International@uccs.edu.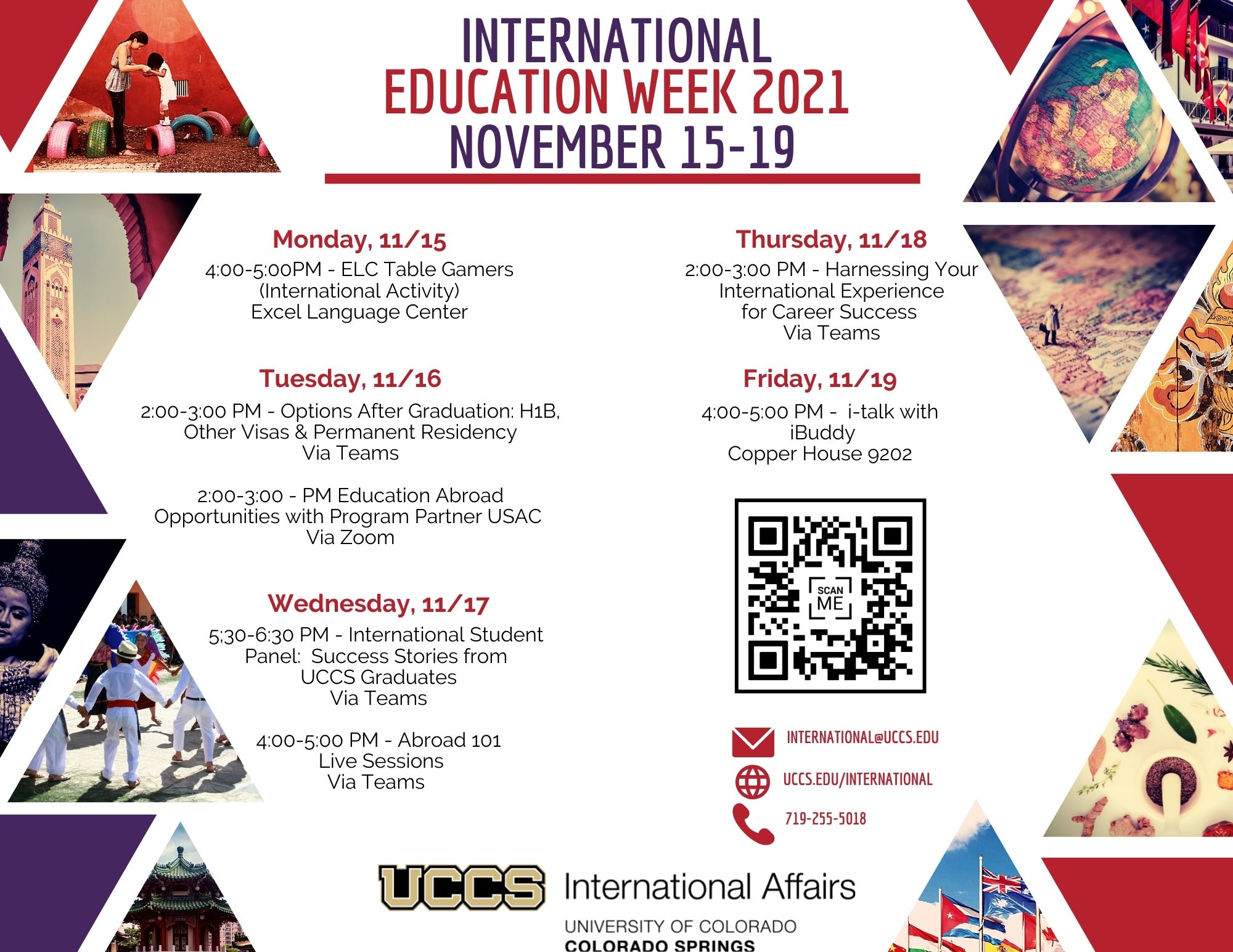 Links for virtual events:
Options After Graduation: H-1B, Other Visas and Permanent Residency (with Immigration Attorney Steven Williams)
Tuesday, November 16 – 2pm via Teams
Attorney Steven Williams will discuss OPT, the H-1B program, and other visa statuses that may be available for international students after graduation.
International Student Panel – Success Stories from UCCS Graduates
Wednesday, November 17 – 5:30pm via Teams
Attend this event to hear from international students who have graduated from UCCS and where they are now! Tips and advice regarding the American workplace will be shared.
Thursday, November 18 – 10:00am via Teams
If you are an F-1 international student and graduating this semester, you may be interested in working for a year in the U.S. in a job or jobs related to your degree studies. This is only possible if you apply for OPT. The application and rules are somewhat complex. Come to an OPT workshops to learn more. Attendance at a workshop is required if you plan to apply.